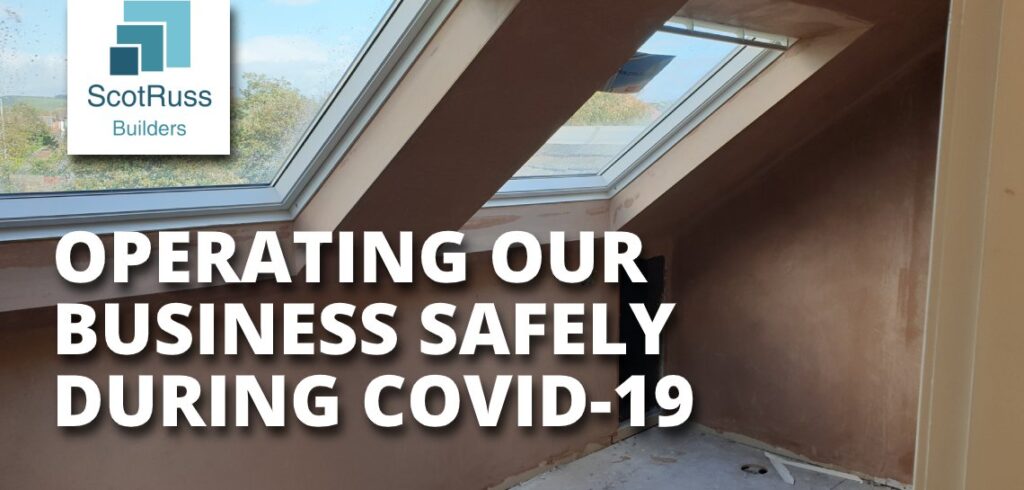 ScotRuss Builders make the health and safety of our customers of absolute paramount importance when we carry out any of our services in todays climate.
We monitor the government guidelines on a daily basis to ensure we are always up-to-date with the latest advice.
Steps we will take.
When we visit your home or workplace you can rest assured that all of our staff with be wearing protective face masks and take all the necessary precautions required to make our visit as safe as possible.
Social distancing will be followed in all situations where possible, but should the need arise where this is not possible we will:
• Increase the frequency of our hand washing and surface cleaning
• Keep the time involved as short as possible
• Use back-to-back working rather than face-to-face
• Reduce the amount of people that our staff have contact with.
Working in your home or business.
During and after our visit we will:
• Frequently clean any objects and surfaces that have been touched using industry standard cleaning products.
• Safely dispose of any waste that we have accumulated during our work
• Maintain good ventilation during during our visit by keeping windows and doors open
• Dispose of any discarded PPE equipment offsite.
• Wash our hands more often and for longer than 20 seconds each time
• Use minimal workers for the required job wherever possible
• Use the same employee or pair of employees to carry out the same tasks
• We will avoid any sharing of paperwork between us and our customer(s) where possible.
• Cover our mouths and nose with a tissue should we cough or sneeze to reduce the spread of germs.
• Speak to our customers before our visit their homes so we can arrange how we will carry out the work to minimise risk for everyone.
We also carry our own supply of hand sanitiser and bin bags, ensuring the risk to our customers is kept at an absolute minimum.
And as much as it pains us to say it, we will of course have to say no to any tea, coffee or biscuits.
Please do not hesitate to contact us if you have any questions or would like us to talk you through any of the points above.