Loft Conversions are one of the best ways to open up more space in your home and transform the area into comfortable living spaces that suit personal taste better than conventional bedrooms do. It may seem complicated at first but if your house is suitable for a loft conversion then there should be nothing stopping you.
We have put together this short guide to help you plan your perfect loft conversion.
First Steps.
Make sure that your home is suitable for a loft conversion first by measuring out the space. In Scotland you do not need planning permission for a basic loft conversion but things will be more complicated if you need to extend the roof to give you more space, in this instance we recommend getting a builder or architect out to carry out a survey for you and of course here at ScotRuss Builders we would be more than happy to help you every step of the way.
The minimum height required for a loft conversion in the UK is 2.2m. Other factors you need to take into consideration is old water tanks, chimneys and the roof type (Rafters or Trusses). 
Insulation & Heating
You will need to decide if you want to heat the loft space or if insulation will be sufficient, again this is something a builder will be able to advise on. And of course insulting your loft will help with your homes energy rating. 
Access
One of the most important factors is access to your loft conversion, you will need to consider how much room above and below a staircase will take up and make sure you plan for this. Other factors to think about are staircase location, headroom, step height and fire safety (you will need an escape route and also a linked smoke alarm as per the governments new regulations.
Inspiration
It's a good idea to have a look at other houses in your street too see if any of them have a converted loft, and if possible, you could ask to see inside, this will give you some great insight into what is possible for your own loft conversion.
Types Of Loft Conversion
Roof Light Conversion:
• These are the cheapest option and will also be the least disruptive but they do offer less space.
Dormer Conversion:
• This is a great option for houses with a sloping roof but will require more work
Hip-to-gable Conversion:
• These types of conversion work by extending the sloping hip roof at the side of your house. A great option if you live in a detached house but obviously not suitable for all properties.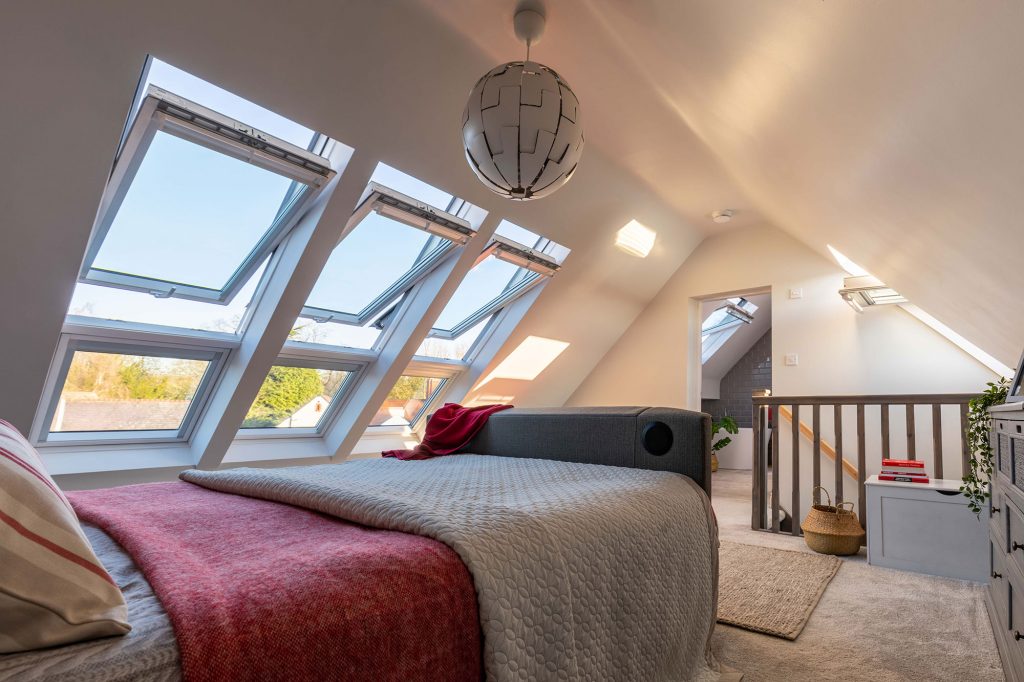 Some Final Thoughts
Planning is key, as is working out your budget, make sure you factor in all costs before you start any work. And keeping your neighbours on side by having a friendly word before hand will save any hassle going forward as it may be quite disruptive for them as well as you.
Why not get in touch with us today and we can help make your dream loft conversion a reality.