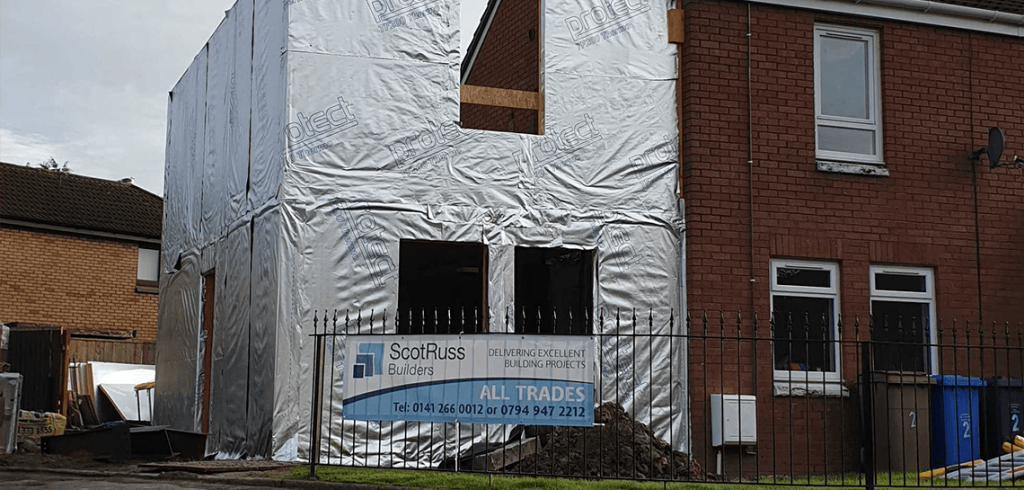 Follow these guidelines to help you realize your vision.
An extension to your existing home can add valuable and much needed living space while at the same time removing
need of moving into a new property and the associated 'external' costs that comes with it, (stamp duty, estate agents etc).
Your Design
It's essential that you create your design based on your personal needs and requirements. You may wish have a larger kitchen or add a garage with a living space above it but your extension must fulfil what you actually need first and foremost.
Cosmetic considerations such as type of facing brick/stone etc should be incorporated after the functional size and design has been established and according to your budget.
Whether by yourself or with help of a professional (see below), you also need to consider things like:
Do you require planning permission? Follow this link for planning permission regulations in Scotland)
Do you want a single or double storey extension? Did you know that 2 storey extensions aren't much more expensive than single storey!
Access for the builder, building materials, delivery vehicles, utilities, environmental considerations (trees etc.), rights of way and not least your neighbours.
Your Professional(s):
Once you have an idea of the size and layout of your extension you will then need the help of suitable professionals.
Many builders who undertake extension work do so in partnership with architects and structural engineers and this can simplify things greatly, their expert knowledge can speed the whole process up considerably and rule out very costly mistakes.
[ScottRuss Builders] are a Glasgow based building company with extensive knowledge and experience in this field working in conjunction with RIAS (The Royal Incorporation of Architects in Scotland) registered architects.
Undertaking complete new builds, kitchen and bathroom design and installation and all other home improvement projects.
Whoever and whichever route you decide to take, ensure that these professionals are trustworthy and have a solid reputation specifically in the area of house building and extensions.
Word of mouth and genuine testimonies from previous clients go a long way in this field so ask about and do your research!
Your Budget:
Typical costs range from £1000 per square metre and up depending on size and material specification and location.
Normally payments are made in stages after an initial deposit/fund to get the ball rolling and then after each completed stage signed off by the appropriate authority.
If you don't have any recommended builders/architects, it would be wise to get a few quotes from local companies but its not always wise to pick the cheapest as cutting corners and oversights can lead to multi thousand pound mistakes!
After you've chosen your quote/builder add about 10% extra for contingency purposes.
If your priority is the value increase in your original property try to balance this with the overall cost of the extension work, no point in investing tens of thousands of £££'s for a marginal increase in property value.
Call us now on our phone 0141 266 0012, or write it online in our chat or through the contact form, and the operator from our "Scotruss Builders"